L. C. D. P. F.
Sören Jensen » Synths, voice
Pascal Metidji » Synths
Roger Persson » Synths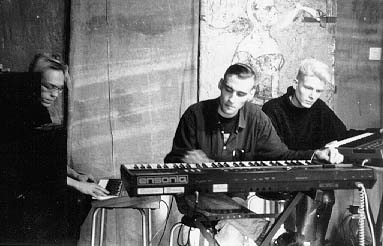 LCDPF was founded by Pascal and Sören back in 1991, as we played live in Lidköping, Sweden. Using three tapemachines playing different pre-recorded backgrounds (we had never heard each others recordings before entering the stage) and then adding noises from an analog synth and some distorded chantings, we created a suggestive and chaotic wall of strange rhythms and noises. Most of the audiance left the building, but those who remained were spellbound.
We were reborn in 1993, due to our second performance - now joined by Roger, we became somewhat more organized and harmonic. The following years we made a couple of concerts in the western parts of Sweden, including one at legendary Rockborgen in Borås with Ananzephalia and Mortiis.
We considered ourselves primarily a liveband, as much of our stuff were more or less improvised. We used a multichannel tapemachine as background and then let our current mood channelize the final result as we played and mixed on stage - thus the same tracks can at one point be harsh noise, but at the next time sweetly harmonic and melodic.